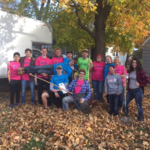 The 3rd Annual Rake and Run was a huge hit two weekends ago as the ISU Habitat Chapter partnered with Habitat for Humanity of Central Iowa to help rake yards and raise money for Habitat! On the 5th, students met around 8:30 and traveled around Ames in three teams, raking 10 yards and enjoying a beautiful Saturday. 
This last weekend, the ISU Chapter met up one more time to finish raking yards and raising money for Habitat. 
Thanks to everyone who participated!!